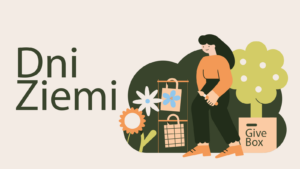 This year, for the Earth Days in Business Garden, we have prepared a lot of activities for our Tenants!
As every year, the main element of the celebrations will be ElectroWaste collection. Throughout the week it will be possible to throw waste electrical and electronic equipment into specially prepared containers. It is worth recalling that last year's edition collected a total of over 536 kg of this type of waste. In addition, we have for you:
GiveBox – according to 'ZeroWaste' concept – leave it if you don't need it – take it if you need it – it can be a book, a mug or a figurine that you want to give a second life (we remind you that the things you bring must be in good condition!)
Workshops on Painting Eco Bags – will take place on April 27 (Thursday) at 15:00 on the ground floor in building K. The number of bags is limited, so – first come, first served!
EkoQuiz – answer the questions about the Earth and ecology correctly – win a gift! The quiz will be active from April 24, 9:00 am to May 5, 5:00 pm. Winners will be drawn between May 8 and May 12. Remember to include your work email address!
Are you ready to test your knowledge about the Earth and ecology? Click here: EcoQuiz.