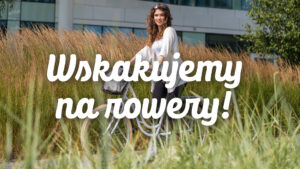 Spring is here, so we've got out and gave our bikes a good polish! Using our bike sharing programme is free of charge for Business Garden tenants, and you can rent a bike for as often as you want (up to 72 hours in one go, however). And what's best is that upon arriving at your destination, you can leave and end your rental at any publicly available bike stand within your city boundaries!
Registering is super-easy:
Get the Revelo app, available for Android and iOS.
Register (or sign in, if you are already a member), using your WORK email address.
In order to rent a bike, simple approach it and follow the instructions provided in the app, and off you go!
Here is what else you might want to know:
Our bikes are regularly disinfected, cleaned, and relocated either to Business Garden or to major public transport hubs in town.
There are a couple of rules to follow, check out the terms and conditions HERE.
There are also a couple of do's and don'ts, e.g. where it is save to leave a bike and end your rental, how to properly lock a bike, etc. – you will find those 'good manners' fixed to every bikes' basket. We would appreciate if you adhere to those, as it makes renting the bike by another Business Garden tenant after you oh so more nicely.
If you are having troubles renting a bike, or anything is unclear, please write to us or contact The Bike Company – telephone hotline and email address can be found on every bike and at the hub in Business Garden – at any time!